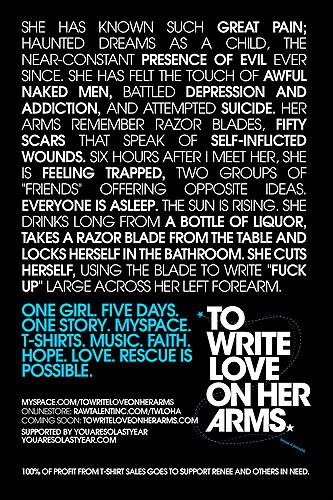 at the nywc this year we were provided with a teen girl mag called
'niNe'
- i hoped that it would be appropriate to give to my pre-teen pink, so i've been reading it to see. it's way above her right now as it talks about relationships and is far above her head space on navigating things like that (thank god).
i came across a very provocative ad in the magazine that used the "f" word and it shocked me so much i had to follow it down. if you've read this blog long enough you'll know that i'm not offended by swear words and use them rather frequently (much to liam's frustration) myself. this just seemed so incredibly out of place. i had to know more.
what i found is the new face of the church. 20 somethings ministering right smack dab in the center of their world. it touches me deeply. so deeply that i wanted to share it with you.
hear renee's story
, see the amazing good these young people are doing.
my space
website - twloha.com
renee's story
w
here the title came from
i am moved. this is love.