tomorrow i am welcoming my good friend, and AUTHOR renee altson to my blog. renee and i 'met' while sharing grief over the death of mike yaconelli last november. we soon found out that we had much more in common than our love for that great man. in finding her i found her
blog
, and in finding her blog i found a window into the soul of one too precious for this world. she is stronger than anyone i 'know' and braver than the fiercest warrior. she has faced demons and wolves that no person, let alone a young fragile girl should ever have to face.
renee gave me permission and courage to face my own. her transparency and gut level emotion brought me to places i never wanted to go alone. now i didn't have to. she was a guide to the deep levels of my soul. knowing that renee was 'here' made me realize that i wasn't alone. she has become a friend and a confidant to weather the most of difficult storms.
although we've never met i know her like a sister, and love her just as much. she is funny, creative, talented and brilliant. her insight and discernment give me confidence to trust my own. getting a window into her world and watching the journey that brought
stumbling toward faith
to life has been inspirational for me. thank you renee, you give me courage and strength to face my darkest moments and hope that rebirth is truly possible.
some mentioned that they wanted to see my review of renee's book, i wrote it for amazon, and left out a lot because of their 'spoiler warning rule', so here it is, and then afterward i am going to add in the things that i couldn't there, be aware though that there are places that i may tell you more than you want to know if you'd prefer to save it for the book come back later (and by all means -
buy that book
!)
i have avoided writing this review because i would hate to say anything that would keep someone from reading this important book.

the level of abuse and trauma that renee endured at the hands of her father and the church is sickening, and yet she writes with beauty and depth. there are times you wish she'd stop, you can't fathom anyone enduring the horror she did, but you feel a bit braver for having heard her story, shared her journey.

never have i read anyone with the courage and stamina to endure what she has endured. yet her pain is laced with glimpses of hope, beautiful prose and inspiring tender moments of care. it's unlike anything you have ever read.

if you work with children/teens, or in a church or know someone who has been abused this is a MUST READ. never again should this be allowed to happen. renee's abuse had the church's stamp of approval, it must stop, we must hear the child, we must punish the abuser and allow the hurt to grieve at their own pace.

amazingly this is a story of hope, a story of grace and a story of courage. you won't be the same after you read it.
***************
okay - this is the part where i will talk about the details that moved me, so you are warned that there will parts that might wreck it for you.
within the first few pages of the book we learn that she has had to go undercover and change her name for her safety and protection. she tells us that she asks her former therapist to name her. he takes that responsibility very seriously, searching name books and choosing one well suited for her new persona. he finally hands her a piece of paper with the name 'renee' written on it.
i didn't know this part of her story, it really moved me because that is my middle name. it was going to be my first name 'renee beth', but for some reason my parents decided at the last minute to call me by another one. but i loved the fact that we 'shared' that name bond.
i devour the book and near the end of the book she reveals the meaning of her name. it is 'reborn'. i literally gasped when i read that word. reborn. it fit so well, so beautifully, and also spoke beauty into my own name. redemption. reborn. i wept.
one of the best parts of the book is how renee uses images and metaphors to give illustration to her deepest pain. one of the most searing is the metaphor of her family given to her by her mother. 'we are all crows'. her mother through addiction and mental illness had abandoned renee as a young girl. the picture that the crows placed in my mind was stark and eerie.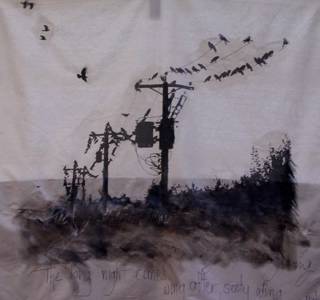 not at all warm or family like. i thought it a cruel and cold metaphor to give a daughter to remember her family by. in her illness she was unable to reach out to renee and give her the mothering she so craved.
at a most desperate time in her life, needing a miracle renee goes to the place she remembers feeling safest with her mother. and god gives her a new metaphor, a miracle of sorts. he redeems the crows with pelicans. i love that this cold bird metaphor is replaced with one of community and life.
after finishing her book i realized how even amidst the pain and the trauma she endured renee never lost site of god. her god is so big, so vast. handling any question she throws, and frustration she hurls, and even the silent tears she cries. renee's understanding of god has widened my own small miracle god that i kept tucked away in my small box, into a full, sweeping god that i don't understand but love even more. that she could have endured all she did and still love him gives me solace and safety, and increases my own stumbling faith.
renee, i would like to 'gift' you with another metaphor. it is another bird, another winged beast that i pray sweeps into your soul and shows you how i see you, your story, and your life. from the ashes which you were given you have truly been reborn. god wastes nothing, and you truly are a 'wounded healer'. thank you for telling your story, for facing your demons and for trusting us with your words. i love you!